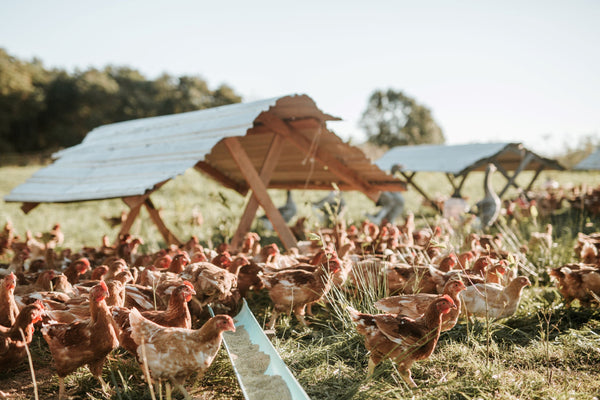 Chicken Feet
Create your own soups and stocks, dog treats, and Christmas ornaments with our pasture-raised chicken feet! We add in 1-2 lbs for every 5 lbs of bones to make a collagen-rich bone broth or stock!
Instructions for stock: Remove from package and place bones into your crock pot or stock pot, cover with water, and simmer for 8-12 hours. A few small bubbles emerging ever second is ideal. Feel free to add in vegetables, bay leaf, peppercorns, onions, as your wish. Afterwards strain, cool, and use or freeze in Tupperware or in silicone muffin cups for recipes that use smaller quantities.
Our pasture-raised chickens spend over half their lives on rotating, fresh clean grass, clover, and other perennial wild forages. They also have access to our NON-GMO feed ration and plenty of fresh clean water. 
Select home delivery or one of our convenient pickup sites at checkout: Anchorage, KY, New Albany, IN, and at the Original Bardstown Rd. Farmers Market. Minimum order for home delivery is $100.